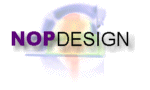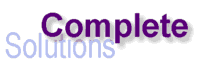 Are you looking for a complete solution for either your internet presence, or your corporate systems? NOP Design can help with the design skills and experience necessary to take your website from idea to reality keeping your budget in mind. We also can help design your intranet systems providing your corporation with the internal communications you've been needing.

Are you looking for a flashy website with animations, sound, and graphics? We'd be glad to provide that for you -- but we can also take your site to the next level with Dynamic Content. Dynamic Content is content that changes either based on the user that comes to the page, or content that can be changed without programming by the site owner (you!). Utilizing NOP Design's Smart Systems software, the content on your website can literally change every second if you want it to.

Making money... A website is a great tool to provide a corporate image to your company, but it is also becomming a great medium to sell your products. NOP Design has helped many companies move their business online with electronic ordering, credit card processing, shipping, and more.

Custom software? Not a problem! NOP Design's staff members are experts at designing custom software to drive the special needs of your site. From Journal abstracting and search software (running on the web of course) to VAR database systems, and special computational software we can write it. NOP Design supports all major operating system and server platforms, and can work with you to develop the application you've been dreaming of!